I sometimes tend to forget what I originally created this blog for.
And that was to also share past memories I had with John.
And the other day I found my LWHS Alumni page. It hadn't been updated in awhile... and still had on the profile that I was dating John and we had been tog
ether for almost 4 years at the point and that we were completely happy.
I erased all the info today.
Yes, it sucks every time I find something online or not that has to be adjusted to erased. It feels like I am literally erasing John's existence. I don't even fill in my current information... because I feel as if I would have to explain things.
"You see... I was with this amazing guy and his name was John. He was taken away from me for no good reason at all by a freak virus no one ever gets. Then life sucked really bad. Then I met another amazing guy and his name is Ryan. are you confused yet?"
I just think the blank is best.
So, on this website are also a select few of my favorite pictures I decided to put up and share with my fellow alumni of LWHS.
And I am going to share one on here....
This is a picture of me and John on a very special night.
A night that many men could learn from. A night when John decided to be spontaneous and romantic.
Are you paying attention, men?
So... I am going to go ahead and let THAT Autumn explain it to you. The Autumn from 6 years ago. The 21 year old. Because I had blogged about that night before... in my
old blog
from high school/college. So here it is:
Crossmen Camp: (Dec 7-9)... little did I know... this would be my last time in the Crossmen family. My family for almost 3 years and I never even got to say goodbye.... it was a tough camp and things just didn't feel right.. Joe Kemp died in a an accident (one of our vis staff ) and all the perc, staff was fired which really pissed me off. I hated Larry...Pat wasnt coming back and Gus was gone. Rachael also decided it was not in her best interest to march. So... maybe God had a plan... I see a light at the end of the drum corps tunnel. ALso, John was cut from SCV. Hard stuff to deal with.... But then Phantom caLLED him and he made bottom bass so all is well for him. He's living my dream. Good for him. Sooo... it was a long weekend anyway and I got home .. after the most stressful flight of my LIFE!!! We wwere late... our luggage was actually packed into the aisles and BATHROOMS of the plane due to ppl who fucking overpack. I was mainly frustrated cause John, Brandy and I were supposed to go eat at Osaka's... and we surely werent gonna make it. So... I get off the plane and at the end of the terminal is john waiting... with a dozen red roses... he kisses me and hugs me. He then says "brandy is bringing the car around.." so we wait... and up comes a STRETCH ESCALADE LIMO... for me!!!!!!!!!!!!! I was sooooo shocked. John rented me the limo for all night and since Osaka's was closed... we ate at Whataburger instead. It was so cute and romantic! Inside the limo were about 8 of my friends... all drinking wine/beer and ready with camera flashes. John is so sweet! I love every ounce of him!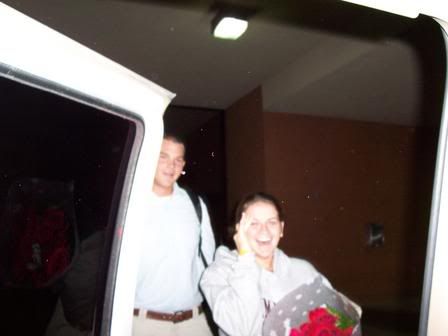 SURPRISE!!!!!!!!!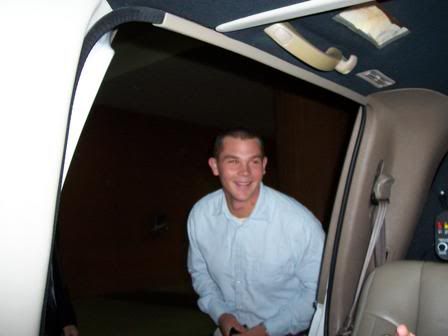 John was so happy his plan worked... isnt he so cute???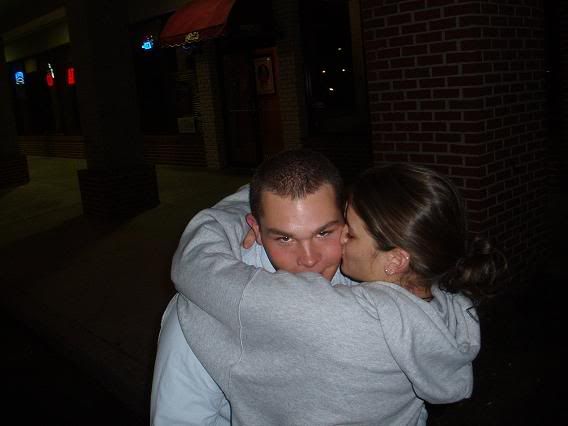 oh he knows he got major points for this one!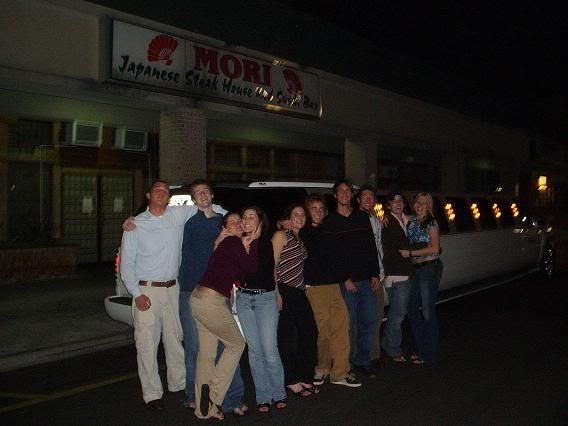 by the limo!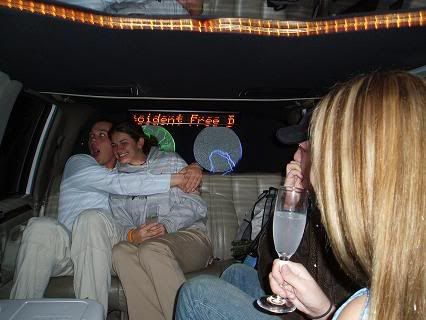 "so yeah, she had no idea!" It was purely amazing.
So now you know... just one of the many amazing things that came from John Seay.
Everyone can learn from him.
I can even learn from him still.
As a couple we were always doing whatever we could to keep things romantic and exciting. Whether we left each other little notes or took each other out on surprise dates. I am not gonna lie... John was pretty good at it! And yes, sometimes he needed a little coaxing from me :) But, even to the very last of his days... with a truly genius proposal... he was a down right ROMANTIC.
DO SOMETHING ROMANTIC TODAY FOR SOMEONE YOU LOVE.
They will remember it forever!